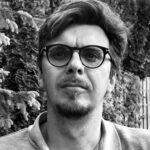 MARIUSZ ANDRZEJCZAK
TRENTON SOLUTIONS
Mariusz has 20 years of experience in IT consulting and software development.
He graduated from the University of Lodz in Statistics and Econometrics. During his career he has worked as admin, developer, project lead, solution architect and IT manager for companies only having IBM i in their ecosystem.
For several years he held a technical lead position in SAP & PIM  implementations in Nordic and Baltic countries.His major expertise area is software development in RPG, SQL & .NET.
In 2016 Mariusz found TRENTON SOLUTIONS, a creative software house and has been supporting his customers in digital transformation.
His credo is "If you have faced problems with your app, let us move it onto the IBMi platform and the problem disappears"
Mariusz is passionate about integration, digitalization and automation.