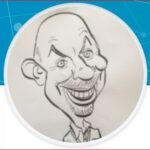 STEVE BRADSHAW
(i-UG, UK)
CEAC Liaison to IBM
ROWTON IT Solutions Limited
Steve has worked in the IBM Business Partner world for over thirty years and despite IBM's best attempts he still love them 😉
His career started as an RPG developer but for the last twenty years he has specialised in System Design, installation and management.
In 2008 he founded his own company (Rowton) and now he and his team spend their time supporting clients or designing new IT solutions using a combination of Power servers, Intel and storage with a little extra cloud magic where it's needed.
When he's not looking after his own clients, he helps run the UK's largest IBM i User Group, the i-UG.  In 2019, IBM made him an IBM Champion in recognition of the work he has done to help and evangelise the IBM i platform, Happy Days 🙂
He has a love of teaching IBM i and has spent the last ten years volunteering to teach at IBM i events around the world. In more recent times he has been writing technical Articles on PowerWire.EU and creating his online webinars.  He is a firm believer that the more he teaches, the more he learns.