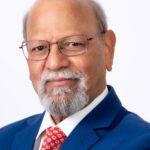 "Ranga" has been using IBM i and its predecessors in his entire IT professional career at Institut Jules Bordet, the Comprehensive Cancer Centre of the University of Brussels, Belgium.
Ranga has been an IBM Champion since 2012 and received a Lifetime Achievement Award of the IT Executive Circle, Belgium. He is President of COMMON Europe and Vice-President of COMMON Belgium. He is also Senior Advisor at the IT Executive Circle, a premier CIO think tank in Belgium. Ranga has been on the Common Europe Advisory Council (CEAC) since its launch in 1991 helping IBM shape the future of IBM i. He is a frequent speaker at national and international events.
With a doctorate in Biology, Ranga also had a previous academic career. Constant improvement of people's quality of life through the informatics ecosystem is Ranga's passion.